Corporate Headquarters relocated to 1750 Raymer Ave, Fullerton, CA, 92833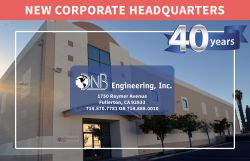 Dear valued customers and partners in business,

Effective September 1, 2019, DNB Engineering, Inc. relocated to 1750 Raymer Ave, Fullerton, CA 92833. This location has been in operation since 2007 and houses EMC/EMI, HIRF, Lightning, and Environmental testing capabilities. Please inform your Accounting departments to remove the Commonwealth Ave address from their records and update it with the correct address:
DNB Engineering, Inc.
1750 Raymer Ave. Fullerton, CA 92833
Tel +1 (714) 870-7781

DNB Engineering Inc. is a full-service Electromagnetic Compatibility (EMC), High-Intensity Radiated Field (HIRF), Lightning, Environmental, and Product Safety Test Facility. DNB is committed to providing the best EMC, Environmental, and related testing services possible to our valued customers. DNB provides an excellent facility, highly trained and experienced personnel at competitive prices. Our goal is to provide a facility for the industry where they will be able to obtain a qualified unbiased third-party product evaluation.

DNB Engineering, Inc. is a family-owned and operated company started by Mr. Alwyn Broaddus in 1979. As we move forward, we continue to honor him and the company he built with the principles he instilled in all of us -- hard work, determination, perseverance, loyalty, and service to customers and partners.